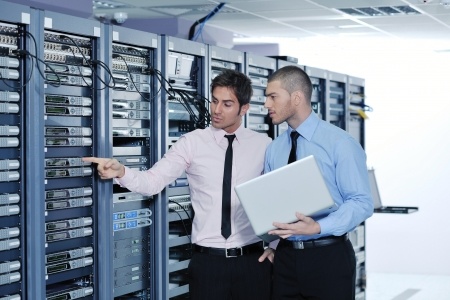 Failure Safety and Reliability
Did you experience a computer breakdown? If you run your booking system on your own computer, it may take hours until the necessary spare parts are available and the computer is running again - if it happens at an unfavorable time or if the hard drive breaks and operating system and booking system have to be reinstalled, even days. Cloud-Rooms runs at two independent datacenters in Germany, Austria and Switzerland. All our servers are maintained by specialists and should one datacenter break down, the other datacenter can take over. By using Cloud-Rooms you are not only protected against a breakdown of hardware, but also against any other possible interruption, be it outages of the internet infrastructure or even natural catastrophies like floods.
Internet Connection
Cloud-Rooms uses an Internet connection. Today, internet access is available almost everywhere. Cloud-Rooms also works with a cellphone or tablet via the cellular network. Nowadays, several providers are available almost everywhere and therefore a very high availability can be achieved.
Data Security
By using Cloud-Rooms you remain the owner of your data. You can download a complete backup of your data in csv format anytime. Naturally, all data will be handled in accordance with the Data Protection Act.
Security
Of course all communication to Cloud-Rooms is encrypted, so that your data is secure. Unlike depicted in some Hollywood-movies, "hacking" today means usually to guess or reveal a password, which cannot be fully prevented. However Cloud-Rooms comes with a login-log, which shows who, when and with what IP-address and internetprovider somebody has looged in. In this way you can detect and prevent unauthorized access.