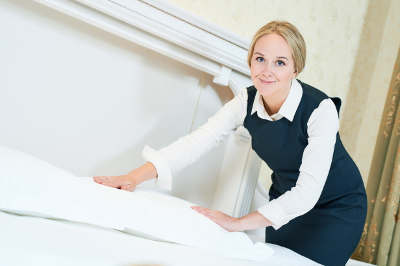 Laundry Management
Laundry management allows to track the laundry that is going to and from external cleaners.
Stock Management
In addition to the laundry management there it is also possible to manage a minibar with Cloud-Rooms. You can also manage articles in stock and much more.
Organization by Company
Additionally, a company (or any organization) may be defined for each customer. Customers are grouped by companies to facilitate invoice management, create better statistics and also to offer special prices for companies.
Customer Information and History
All relevant data about a customer is stored in Cloud-Rooms and easily accessible. You can assign special prices for a customer and also add internal comments. Also you can easily view the history of that customer and data about all previous stays and statistics.
Define Equipment of Rooms
In RoomSoftware you are able to define air conditioner, bathtub or shower, lake view or any other property for each room or each room category.
Room Categories
Room categories can be defined freely. Abbreviations can be chosen as needed and the rooms can be put in any order in the booking plan. Rooms can be grouped and neighboring rooms can be defined.
Daily Information
The daily information stores important information for all employees, which is also included in the chat as a reminder. Entered information is sent automatically to users at the begin of the day via the chat, which provides a useful reminder for necessary tasks or events on that day.